First conceived in 1994 and launched in 1998, the DMC 2000 has served eighteen years as a flagship product in Mirion's active dosimetry lineup. From use in nuclear power plants all over the world, to use with various militaries and civil defense agencies, to a large variety of labs, industrial sites, and more, it has been a rugged performer keeping workers and wearers safe and aware of their radiation exposure. The DMC 2000S and some associated products and accessories are now entering an end-of-life draw down phase, with a series of stages listed below to explain the impact to our customers.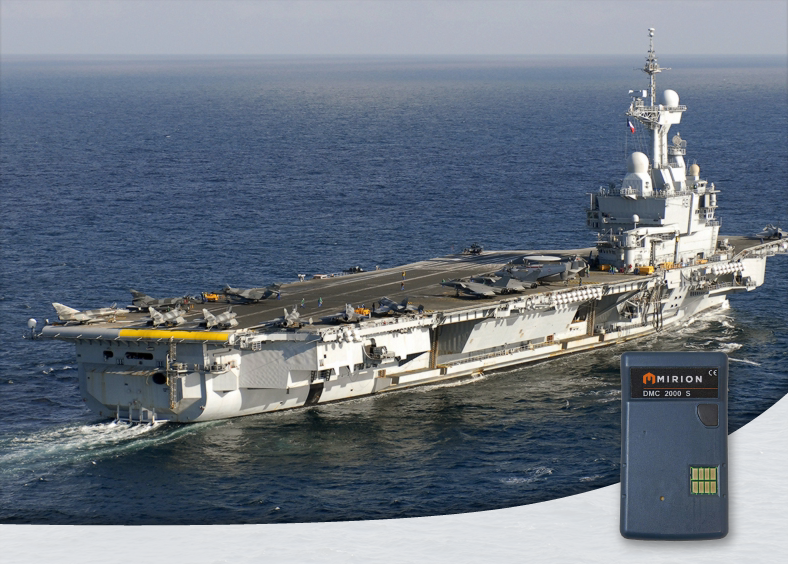 The French aircraft carrier Charles de Gaulle, where the DMC 2000 was first deployed
Keeping this history firmly in mind, we wanted to be careful how we addressed the end-of-life planning for the DMC 2000. It has been a stable and reliable product for nearly two decades, with some of the units from those first few years still in active service at various sites. We wanted to make sure to be respectful and judicious as we begin to wind down production. Below we will go into some detail on the projected end-of-life process for the DMC 2000S electronic dosimeter.
But first, a little more history.
A Proud Heritage


The DMC 2000S started development in 1993 as a means to address the accumulated feedback and operation experience gleaned from over a decade of experience in making personal electronic dosimeters.

Mirion's expertise in electronic dosimetry dates to the 1980, with the DM 60, which was quickly followed by the DM 90. Large, relatively unwieldy devices, they were still highly effective tools for their users, providing a live readout option for radiation workers concerned about their dose exposure.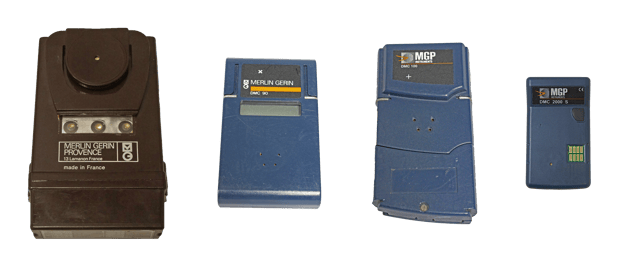 The evolution of Mirion's electronic dosimetry
These were followed by the DMC 90. The added C stands for "Compact." As useful and revolutionary as the DM 60 and DM 90 were, they were too large to be worn comfortably for long periods of time. So the idea was to make something smaller and more comfortable, while retaining the same technical capabilities. This was expanded on further by the DMC 100, which maintained a smaller profile while expanding capabilities with the option of expansion modules for telemetry. The guiding principle was to put as much utility into a small package as possible.
And then NATO had some requests...
A New Device for a New millennium


In 1993 a new project was begun, spurred partially by a request from NATO for a new electronic dosimeter, one that would take the existing compact nature and technical capabilities of the DMC 90 and DMC 100, but expand on them. Additionally, the goal was a ruggedness and durability that would meet the needs of a military application. Thus, the DMC 2000 was conceived and born, with its military version, the SOR/R.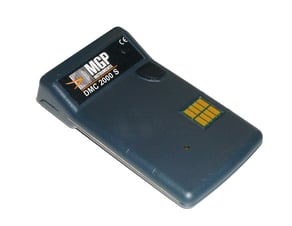 We recently received word that there were a few DMC 2000s being used at a research station in Antarctica, putting the DMC 2000 in service on all seven continents, and giving it a truly global legacy.
The result was an electronic dosimeter with excellent measurement capabilities in an extremely small and sturdy package. The DMC 2000 was very successful as well, having over 100,000 units in worldwide service at its peak. With the inclusion of an ISO connector on the front, it was also able to equip various external accessories, such as transmitters, earphones, and more. After 18 years of active service, however, it is starting to show its age.
Winding Down


The draw-down for the DMC 2000S will be handled in stages. The first stage starting in December of this year, will be to remove the DMC 2000 from any published price lists. The DMC 2000S will still be available, with price and lead times varying due to current supply levels.

The next stage of the process, beginning in December of 2018, has the DMC 2000S no longer available for sale, other than for exceptions such as pre-arranged purchases or maintenance contracts.
The last stage will be in December of 2020, after which the DMC 2000S will no longer be serviced, and any repairs or replacements will continue as supplies allow. Calibration services will be available beyond this date for as long as practical (an anticipated three years).

Options for the Future


With the DMC 2000 riding off into the sunset, what remains to take its place? Well, in 2012 Mirion launched its latest electronic dosimeter, the DMC 3000. Expanding even further on the lessons learned throughout our dosimetry products and focusing on feedback from users of the DMC 2000, it incorporates a variety of changes and improvements designed to make it a strong replacement. If you're interested, click the button below to find out about the performance improvements and features that make the DMC 3000 such a worthy successor to the DMC 2000.