Today's industrial processes and applications frequently involve some kind of extreme environmental condition. From the extremes of heat inside a furnace to highly dangerous radiation fields inside a nuclear reactor's fuel pool, there are conditions taking place that aren't safe to have a regular manned presence in.
However, operators still need to be aware of what's going on in those areas. They have sensitive instruments to provide information on the various conditions and hazard levels, but ultimately one of the most important tools at their disposal is imaging. Being able to clearly see what is going on is an essential tool in the operation and management of industrial processes, and sometimes conditions are such that video requires additional processing to improve the quality of the image enough to maximize its utility to the viewer.
Why optimize - an application focus
High Temperature Applications
High temperature environments can present difficult and unique challenges for any video system. The view from a camera inside a Cement or Rotary Kiln, for example, can be obscured by dusty, cloudy, low-light or other adverse conditions; similar issues can arise with Pulp, Paper and Recovery Boilers. Steel Reheat Furnaces and Glass Melt Tanks both often require minor product defects, such as cracks or other deformities, to be detected through visual inspection in areas where human presence wouldn't be possible.
With Thermal Power and Fossil Fuel Burners, it may be necessary to optimize the view of fireball development to allow detailed analysis of flame shape and growth during start-up. Energy from Waste (EFW) plants are especially challenging for a high temperature camera in this regard; not only is a clear view of the firing line required, but the camera also needs to detect potential build-ups of debris or unwanted matter in the ash collector.
Nuclear Applications
Typical video systems used to capture footage in nuclear environments can have their limitations. Fuel Ponds and Underwater Inspection, for example, can be affected by thermal turbulence, uneven lighting, and refection – all of which will adversely affect the quality of the images. In-Air Inspection and Surveillance applications can also be hampered by uneven lighting, as well as other factors such as opacity and radiation-induced noise.
Other Applications
The quality of live video imaging produced by outdoor surveillance systems such as CCTV can be restricted by conditions such as smoke, dust, low light, haze and adverse weather. The footage produced by cameras especially designed for underwater environments, due to issues such as lighting and particulate debris, may also be of limited quality, unless some type of image enhancement is used.
The Solutions - Mirion's Video Enhancement Options
Having a constant view inside any industrial or high-security operations is critical. The clearer the image, the more informed and efficient the operators can be in monitoring and controlling an industrial process. Therefore, image enhancement techniques become essential to enabling optimum picture quality from your cameras.
Mirion offers a number of real-time and PC-based solutions to improve the viewing or monitoring experience under the extreme conditions often encountered in industrial settings.
HAWK
The Hawk unit is a physical enhancement system for any analog color video system, working in-line to enhance live feed from the installed cameras, enabling better visibility in situations with less than optimal conditions. The unit itself is designed for ruggedness and portability, with a solid aluminum casing and large control knobs.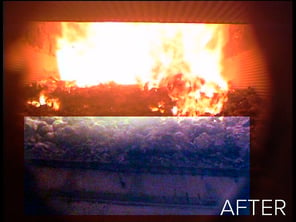 The unit is ready to use once connected between the camera and a monitor with no complicated installation. There is no advanced configuration or complicated onscreen menus. Setup is simply plug in and turn on.
SPARKLE
Developed in close cooperation with EDF Research, this software is designed for applications where noise and other interference can obscure live or recorded inspection video. SPARKLE improves image quality by digitally removing white spots and other artifacts.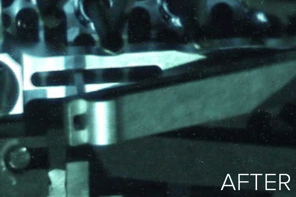 SPARKLE is a fully-integrated software package which processes video in real time. The enhancement filter can be used on live, recorded, or digital video files and offers playback control. The intuitive and user-friendly interface enables the recording and/or replay of video sequences for post-inspection analysis.
NOTURB
The NOTURB® video processing system assists Nuclear Power Plant operators during outage inspection by removing the effects of underwater thermals when viewing hot fuel assemblies. This can reduce the inspection time required for outages and increase operator confidence in the accuracy of the inspection process.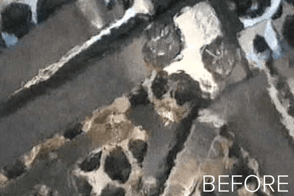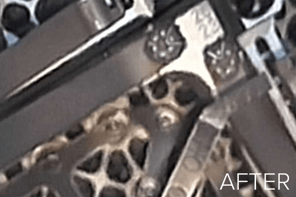 Additional standard features include fuel gap measurement to assist operators in fuel handling operations and a filter to remove radiation-induced video noise from CCD or CMOS-based camera systems.
Video monitoring of industrial processes, especially those featuring harsh or extreme environmental conditions, is a vital tool. For this reason, it is important to ensure that the image quality being delivered is high, leaving little room for missing things that could otherwise prove problematic, or for ambiguity that costs time and productivity due to an unclear video feed.
Mirion's video enhancement product suite is flexible and multi-layered, allowing them to be tailored to the application at hand. To learn more about these products, and their various uses and benefits, please click the button below.